Thank God for our 'ohana, the children of Kauaua
The Keiki of the homeland, the fruits of tender care
The many friendly laughters, light up their faces fair
Because God smiles as always, on those He loves so dear
Hui: We're proud to be a part, of this old family line
We learn to love, to share abroad and gather from afar
Our hearts are linked together, our lips are sealed forever
Because we are a family, the 'ohana of Kauaua…
Ohana Kauaua '22 Reunion
Join us for a weekend of
reconnecting with family
KAHALUU KEY PROJECT
47-200 Waihee Road
Kaneohe, HI  96744-4947
Friday July 15, 2022 (3pm-8pm)
Saturday July 16, 2022 (9am-8pm)
Visit their website
keyproject.org
$20 ADULTS 18 years and older
Fee includes Facilities and program materials and etc.  Acceptable Forms of Payment:  Personal Check, Money Order, and Cashier's Check payable to OHANA KAUAUA
Mail registration form and payment to: President Doreen LaBatte
47-146 Iuiu Street
Kaneohe, HI  96744
Family photos taken on site will be available for print on the same day.
Live Entertainment with the
Keauhou & Holonape Ohana
We'll have a Country Store, Ahi Assassin & Papa Lenny's Food Trucks..and so much more!
Download the Registration Form for a complete list of this event filled weekend!

Ohana Kauaua 2022 Reunion T-Shirts are now available for order.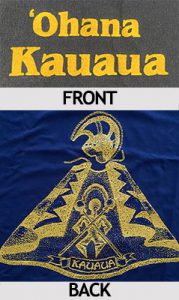 Children's shirts in Royal Blue or Navy Blue with Yellow Lettering cost $15.  Adult shirts in Royal Blue cost $20. The shirt will display the cape design on the back.  "Ohana Kauaua" will be displayed on the front of the shirt.
Complete your order and submit the form with your payment
no later than June 10, 2022 to:
Sandy Jessmon
98-774 Kaonohi Street #A
Aiea, HI  96701
Payment by personal check, cashier's check or money order may be made payable to
Ohana Kauaua
T-Shirts will be available for sale at the Reunion.  Only cash or credit/debit cards will be accepted for payment at the Reunion.  Sorry no checks!
We could use financial
support in our endeavor.
Funding will go to acquiring equipment,
supplies, and services.
Please make your check, cashier's check,
or money order out to:
Ohana Kauaua
Mail to:
Doreen LaBatte (President)
47-146 Iuiu Street
Kaneohe, Hi 96744
For cash donations:
In person delivery
at meeting location or venue.
Give it to someone you trust
to turn cash in for you.
'Ohana Kauaua has been a
non-profit since 1979.
Your contribution is truly appreciated.
Volunteers Wanted – If you or your ohana line would like to make any donations in
time, creative activities, leading a committee, set up and break down
Contact us & please let us know!
Many hands make light work…
We have committee chairs for many of the committees but are still in need of chairs for certain committees.
4 Chair positions open
Entertainment / Activity / Registration
Non-profit organization since 1979
Doreen LaBatte (President)
47-146 Iuiu St
Kaneohe, Hi 96744
(808) 485-7544